| Online Islanding Alert | |
| --- | --- |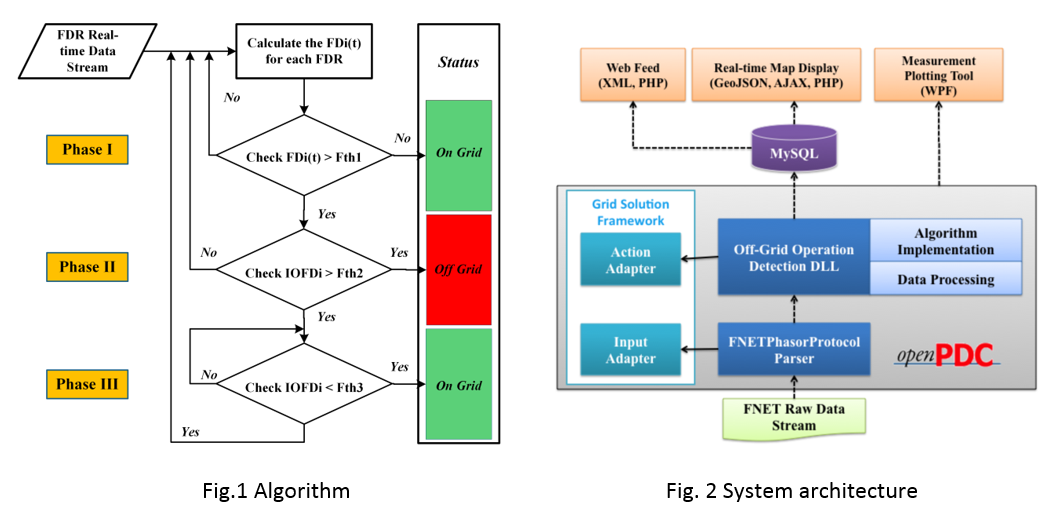 Real-time situational awareness tools are of critical importance to power system operators, especially during emergencies. Knowledge of the scope of facilities impacted, as well as the duration of their dependence on backup power, enables emergency response officials to plan for contingencies and provide a better overall response. Based on the measurement data acquired by the Frequency Disturbance Recorders (FDRs) deployed in the North American power grids, an islanding detection method is proposed and implemented. This method monitors the critical electrical loads and detects the transition of these loads from an on-grid operation to an islanding operation. The details of the detection algorithm are presented in Fig. 1, and alerting system architecture is shown in Fig. 2.
References
[1] Z. Lin, T. Xia, Y. Ye, Y. Zhang, L. Chen, Y. Liu, K. Tomsovic, T. Bilke, and F. Wen, "Application of wide area measurement systems to islanding detection of bulk power systems," IEEE Trans. Power Systems, vol. 28, no. 2, pp. 2006-2015, May. 2013.
[2] F. Galvan and C. H. Well, "Detecting and managing the electrical island created in the aftermath of Hurricane Gustav using Phasor Measurement Units (PMUs)," Transmission and Distribution Conference and Exposition, 2010 IEEE PES , pp.1-5, 19-22 April 2010.