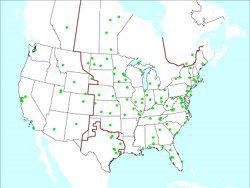 FNET/GridEye is a low-cost, GPS-synchronized wide-area power system frequency measurement network. Highly accurate Frequency Disturbance Recorders (FDRs) developed at Virginia Tech are used to measure the frequency, phase angle, and voltage of the power signal found at ordinary 120-V electrical outlets. The measurement data are continuously transmitted over the Internet to the FNET/GridEye server housed at the University of Tennessee.
Several applications have been developed which utilize the FNET/GridEye data. These include:
Event detection and location
Oscillation detection
Animations of frequency and angle pertubations
Integration of renewables into the power grid
Detection of system breakup or islanding
Prediction of grid instability and reduction of blackouts
Providing grid control input signals
Currently, FNET/GridEye collects data from approximately 80 FDRs located across the continent and around the world. Additional FDRs are constantly being installed so as to provide better observation of the power system.
View the FNET/GridEye Web Server Display
FDR Installation and Troubleshooting Information
View the PES Lab Demo Video on YouTube
FNET/GridEye Industry Consortium
The FNET/GridEye Industry Consortium was formed to pool resources to support FNET/GridEye operation and research. Among other benefits, Consortium member companies will have access to automatic power grid event alert e-mails. This e-mail includes event size (MW) and location information whenever possible, as well as event data plots. Members will also have access to the FNET/GridEye event website which documents the most recent major events.
Please contact Prof. Yilu Liu for more information on joining the FNET/GridEye Industry Consortium.