| Online Event Location Alert | |
| --- | --- |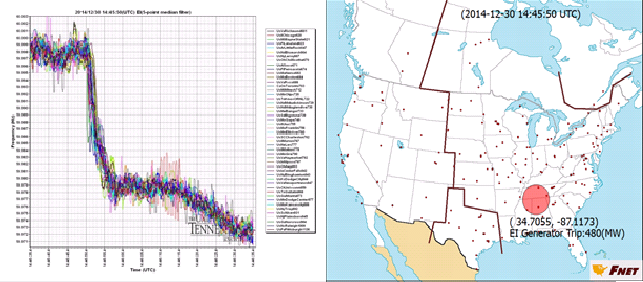 When a significant disturbance, such as a generator or line trip occurs in the power system, the frequency varies with respect to time and space. The FNET/GridEye system is used to capture power system dynamics during disturbances from the large amounts of frequency data that are recorded each day. A US patent has been issued for using frequency "Time Delay Of Arrival (TDOA)" in locating the source of system disturbance. The event alerts are sent out through emails in real time, with information including event type, estimated trip amount and location.
References
[1] G. Zheng, Y. Liu, and G. Radman, "Wide area frequency based generation trip event location estimation," in 2012 IEEE Power and Energy Society General Meeting, 2012, pp. 1-6.
Y. Ye and Y. Liu, "Monitoring power system disturbances based on distribution-level phasor measurements," in Innovative Smart Grid Technologies (ISGT), 2012 IEEE PES, 2012, pp. 1-8.