| FNET/GridEye Live Links | |
| --- | --- |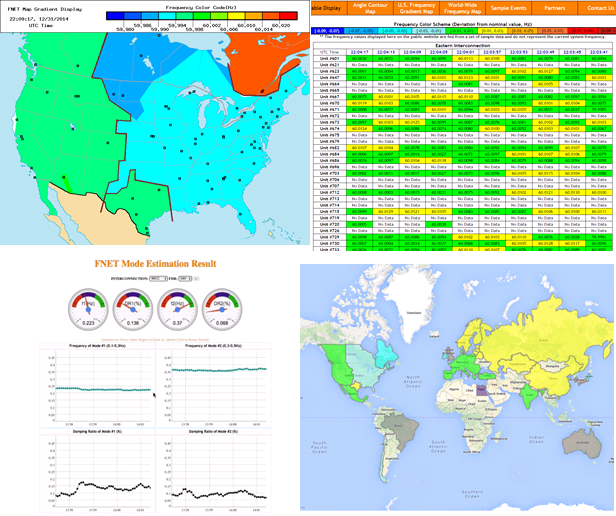 The FNET/GridEye system collects real-time synchrophasor data from over 300 FDR sensing units located across North America and around the world. It provides rich information about power system status including system frequency, relative phasor angle, ambient oscillation mode, etc. FNET/GridEye public website allows users to view frequency and angle data in table and map format and the data refreshes every four seconds.
FNET/GridEye Public Display Site

References
[1] Y. Zhang, P. Markham, T. Xia, L. Chen, Y. Ye, Z. Wu, Z. Yuan, L. Wang, J. Bank, J. Burgett, R. W. Conners, and Y. Liu, "Wide-Area Frequency Monitoring Network (FNET/GridEye) Architecture and Applications," IEEE Transactions on Smart Grid, vol. 1, no. 2, pp. 159-167, 2010.
[2] Y. Ye and Y. Liu, "Monitoring power system disturbances based on distribution-level phasor measurements," 2012, pp. 1-8.